This year, as the world works through a new "normal", Teamwork Arts, the producer of the iconic Jaipur Literature Festival, and the British Library, bring to you a virtual edition of the annual JLF London, with the magnificent piazza of the British Library replaced by the boundless possibilities of the internet.  Everything else remains the same – the magic of discourse, the caravan of ideas, the camaraderie of people, and the seamless flow of knowledge.
'JLF London at the British Library', an annual celebration of books, creativity, dialogue, and diversity, had a very successful curtain-raiser in June this year. With 2020 struck by the cloud of a global pandemic, the Festival was postponed from its customary summer dates. In its stead, a virtual edition has been scheduled from 11th to 13th September 2020. This chapter of JLF London at the British Library will mark the annual literary event's seventh edition. The Festival will be streamed on all official social media handles of JLF –– Facebook, Twitter, and YouTube.
The Festival features a stellar line-up including celebrated actress Vidya Balan, who will be in conversation with actress and politician Vani Tripathi Tikoo and author & screen-writer Nayanika Mahtani, discussing a behind-the-scenes perspective on the recently-released biopic on the life of the late mathematical genius, Shakuntala Devi.
Navigating through the journey of an interconnected group of 12 black women, the 2019 Man Booker Prize-winning Girl, Woman, Other is a quest for love, hope, and home, spanning across the legacy of contemporary and colonial Britain. In conversation with writer Anjum Hasan, one of Britain's most exciting and original authors, Bernardine Evaristo will discuss the idea of womxnhood, culture, class, politics, and race coursing through her iconic writings. She will speak of the binding power of collective experiences and give us a peek into her creative process.
The Festival will also present some intriguing conversations featuring speakers like the much-loved Indian author and politician Shashi Tharoor; Israeli historian and author Avi Shlaim; journalist and bestselling co-author of I am Malala, Christina Lamb; author of Djinn Patrol on the Purple Line, Deepa Anappara; Indian filmmaker, writer, and singer Shabnam Virmani; journalist and author Roger Highfield; British journalist and novelist John Lanchester and award-winning journalist, restaurateur, chef, and broadcaster Ravinder Bhogal, among many others.
Namita Gokhale, Jaipur Literature Festival Co-Director and author said, "There is a sense of homecoming as we return, even though virtually, to JLF London at the British Library. Come September, the excitement of unfolding ideas and conversations across continents will bring together book-lovers from across the world. Do join us live from London from the 11th to 13th of September to participate in the unique spirit of Jaipur."
Sanjoy K. Roy, Managing Director, Teamwork Arts, Festival Producer, said, "Following on the success of JLF Brave New World we are excited to announce JLF London at the British Library as our ongoing digital series to mark the annual festival in London. While we will miss the physicality of being in London, we look forward to presenting exciting sessions for all our viewers in the UK and across the world."
Jamie Andrews, Head of Culture and Learning at the British Library, said, "We are delighted to have worked with JLF and Teamwork Arts to reimagine this year's festival to take place online so that anyone across the world can take part. Our events – whether they take place onsite or online – enable us to make the Library's intellectual heritage accessible to everyone."
The Jaipur Literature Festival in India is a global literary phenomenon, having hosted more than 5000 speakers and artists and welcomed over a million book-lovers from across the globe over the past decade. JLF London at the British Library brings the universal, democratic, and inclusive core values of the Festival to the UK.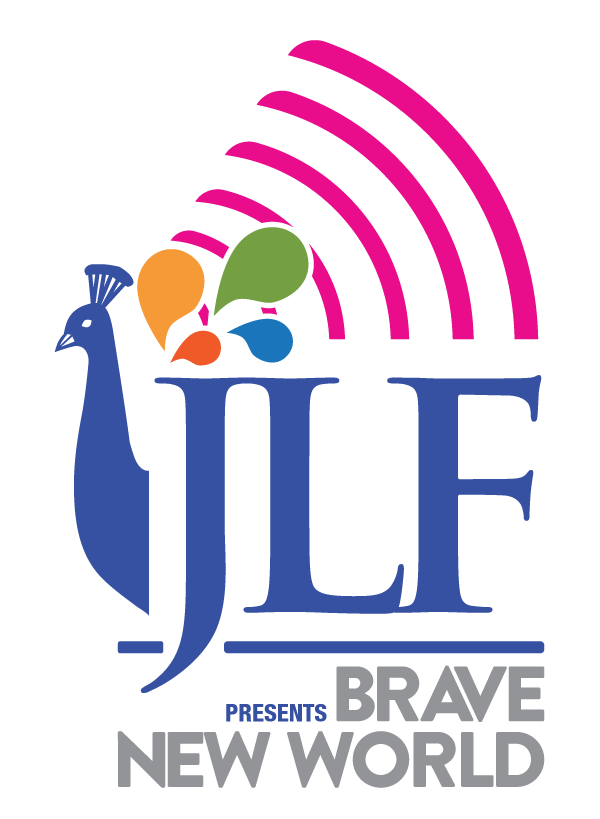 About JLF London
Teamwork Arts, producer of the Jaipur Literature Festival presents JLF London for its seventh consecutive year from 5th – 7th June 2020 to celebrate books, creativity, dialogue, diversity and varied intellectual discourse.
The five-day Jaipur Literature Festival, held annually in the Pink City of Jaipur, is a riot of colour, energy, ideas and music against a backdrop of readings, dynamic discussions and debates.
This June, the spirit of the Festival with its pervasive sense of inclusiveness and infectious camaraderie, will once again be at the heart of London as a caravan of writers and thinkers, poets, balladeers and raconteurs bring alive South Asia's unique multilingual literary heritage at the British Library.
Last year, the British Library was infused with excitement and repartee for two days and had resounded with sessions on the Empire, Mughal and Sikh art, Shakespeare, cricket, democracy, yoga, travel, science, Bollywood, fiction-writing, poetry and history. Speakers ranged from Venki Ramakrishnan, Pico Iyer, Marcus du Sautoy, Christina Lamb, Christopher de Hamel, Davinder Toor, Parmjit Singh, Prashant Kidambi, Romesh Gunesekera and others.
Website: jaipurliteraturefestival.org/britishlibrary
About Teamwork Arts
For over 30 years, Teamwork Arts has taken India to the world and brought the world to India, presenting the finest of Indian performers, writers and visual artists in the cultural and art space in India and abroad.
Every year, we produce over 25 performing, visual arts and literary festivals in several countries including Australia, Egypt, France, Germany, Hong Kong, Italy, Singapore, South Africa, Spain, the UK and USA as well as many eclectic festivals across India. We produce the world's largest literary gathering: the annual Jaipur Literature Festival; JLF international now travels to the US, UK, Canada, Qatar and Australia and we have recently launched a digital series – JLF Brave New World. Our musical extravaganza, Bollywood Love Story – A Musical, continues to tour the world with sold-out shows everywhere it is held.
Website: www.teamworkarts.com
About British Library
The British Library is the national library of the United Kingdom and one of the world's greatest research libraries. It provides world class information services to the academic, business, research and scientific communities and offers unparalleled access to the world's largest and most comprehensive research collection. The Library's collection has developed over 250 years and exceeds 150 million separate items representing every age of written civilisation and includes books, journals, manuscripts, maps, stamps, music, patents, photographs, newspapers and sound recordings in all written and spoken languages. Up to 10 million people visit the British Library website – www.bl.uk – every year where they can view up to 4 million digitised collection items and over 40 million pages.